Golf Outings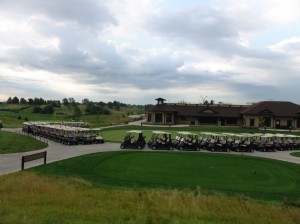 As you view the list of potential sites for your golf outing, we invite you to consider Otter Creek Golf Course. Otter Creek will create a unique golf experience that is unparalleled and one that your participants will remember for a lifetime.
As an outing coordinator you likely fall into one of two basic categories… you love golf, cherish every minute you spend on the course and relish the duties of the golf outing coordinator… or you were absent the day of the "election"! We understand your challenge. We enjoy working with outing coordinators no matter how you came to earn the title.
The key considerations for a successful outing are the course, the clubhouse, and the amenities. The eighteen-hole golf course is certain to appeal to players of all levels and ages with multiple sets of tees, beautiful lush fairways, and large accommodating greens. Your players will love our new GPS system on every cart.  The upscale Otter Creek not only includes a completely re-designed championship golf course and practice facility, but also a beautiful clubhouse featuring the Pinnacle Club Banquet facility, Tin Cup Bar and Grille, extensive menu options, Board Room, and golf shop.
Not everyone attending a golf outing is a committed golfer. We know that and we accept that. In fact, our course is perfect for that mix of player. At Otter Creek we offer a course that is playable by all of your tournament guests. For the less accomplished golfer, the course will be a fun and friendly place to spend a day. For the enthusiastic golfer they're going to enjoy the shot making opportunities from some of the best tees onto some of the best greens in Iowa.
For years Otter Creek has been home to fun and successful tournaments and corporate outings. When you are looking for a complete facility that can be enjoyed by everyone, look no further.
Reservations for golf outings are presently being accepted.